All it takes is one bad review in today's social media driven world, to negatively impact your business.  Did you know that US companies lose more than $62 Billion Dollars annually due to poor customer service?  Premier Hospitality Consulting specializes in helping your business achieve a superior customer experience.  Whether you are a hotel, caterer, country club, bar/club or any other type of food oriented business, we can help.
As a boutique firm based in Philadelphia, we service all types of establishments from the casual restaurant to a four star hotel. Our goal is to ensure that your customer has the best customer experience with you.  We work to customize our service offerings to come up with a plan to meet your goals and needs.    Sometimes all it takes is an outside set of eyes and guidance for implementation. We can be that for you!
David R DePhillips founded Premier Consulting after working in the hospitality and food service industry for over fourteen years. He has extensive management experience working with various restaurants, catering companies and hotels such as the Ritz Carlton and Four Seasons. He enjoys sharing the management knowledge he has gained to help other establishments improve their quality, service and overall customer satisfaction.
Premier Consulting is a trusted professional services firm, dedicated to helping your business refine and perfect its operations, service, and overall guest experience. With a trusted staff of the best and brightest in the industry, we're ready to help guide your business to the next level.
We offer a multitude of services to help you achieve your goals. Whether you are looking to improve the guest experience, recruit the right staff, or obtain an operations assessment, we offer a la carte bundles to help you choose the services that are right for you and your business goals. PHC is a trusted partner to assist you in finding the tangible changes to grow and have a positive impact on your business results.
Improve Your Service by Using Ours
From the moment a guest enters your establishment, they are evaluating your business to determine if it meets their needs and wants. Studies show that a satisfied customer will tell two to three other people about their positive experience, while an unhappy customer will share their negative experience with eight to ten people. Are you concerned that your customer service experience may not be up to par? Our guest satisfaction experience is the option for you. We use a variety of mystery clients to analyze the guest experience and provide you helpful insights on how to improve overall customer satisfaction. An outside set of eyes with the experience we bring can help shed light on items that you may not have even recognized were issues.
One out of every three negative customer experiences is due to the fact that the employee handled the issue in the wrong way. Is it a lack of training, or not having the correct employee in the right role? Finding reliable, skilled staff can be difficult and time consuming. We can recruit for you, locating the correct candidates to fill your roles. PHC consultants have significant experience in recruiting and can ensure you are selecting the proper candidates. 
Finding reliable, skilled, dedicated hospitality staff can be difficult and time consuming. We can teach you how to recruit workers in your geographical area with the skills you need quickly and effectively, or we can do the recruiting for you.
Our consultants have many years of experience in qualifying and recruiting staff for hospitality businesses. With this experience, we can help you find the right recruits for your company. Finding the staff with the appropriate attitude and talent is a difficult process. However, it is especially important, because doing so, ensures seamless workflow and good customer satisfaction.  This will also help your business, by helping you quickly and effectively recruiting the right staff during changes in staffing needs, either due to scheduling changes or seasonal changes. Recruiting with PHC will help you by quickly and effectively finding the right staff during changes in staffing needs, either due to scheduling changes or seasonal changes, which prevents downturns in your business's workflow and helps you provide consistent customer care.
33% of Americans say they'll consider switching companies after just a single instance of poor service.
We conduct a thorough assessment of your existing day to day operations. We analyze your strengths and weakness and make recommendations for changes or improvements specific to your business. Our written analyses will address procedures and checklists to achieve your goal.
What is your focus for improvement? Are you seeking an overall strategic assessment or do you wish to focus on a specific area, such as one of the following items:
Atmosphere, Product Quality, Operations, Staff recruitment/training, or customer experience. PHC consultants can focus our analysis on your desired goals.
What kind of mood do customers expect when they walk into your establishment? We assess the various aspects of your business including physical layout, decor, lighting, menu, background music, staff appearance etc. to assure they work together to create the atmosphere your establishment wants to provide.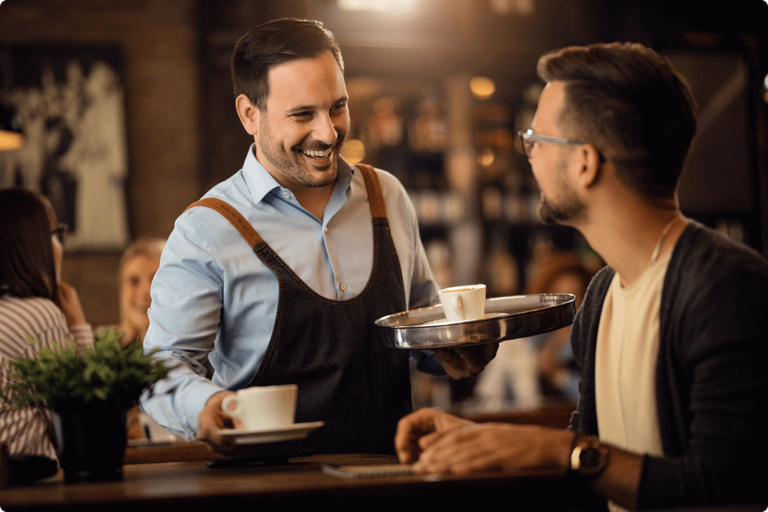 How do others view the quality of your product? Does your impression of your product jive with your customer's comments? We can help to make certain that make sure that your quality is commensurate with your client's expectations.
Do all areas of your workflow interact seamlessly and efficiently? We analyze how work is done in your operation and make recommendations to streamline and perfect each aspect.
Let's Talk About
Premier Consulting
Do you want to know more about our service? Fill out our form. We'll contact you by email or phone.